Saving the whistling whio
An accident while motorcycle racing made Janet Wilson decide to keep her two feet on the ground, and for over a decade, Janet has tramped miles in the rugged Ruahine Ranges to ensure the survival of the blue duck or whio, that only lives in New Zealand's back country. Earlier this year, Janet's efforts with the Ruahine Whio Protection Trust were rewarded with a Queen's Service Medal for services to wildlife conservation.
Janet has lived by the river in Pohangina for more than 30 years and reports that her years of tramping and trapping have given her a strong sense of connection to the Ruahines. "Those of us who are heavily involved feel we are leaving the backcountry a better place than we found it."
The high country of Aotearoa is home to fewer than 3,000 whio, so this species is rarer than the kiwi. Especially adapted to live in fast flowing rivers, the whio is only found in the cleanest environments, so poor water quality and erosion have played a role in their decline. The main threat to this iconic bird, which features on our $10 note, comes from predators such as stoats, weasels, rats and possums. As with the kiwi, the stoat is public enemy number one for the whio. These little blue ducks are particularly vulnerable when the female duck is sitting on her eggs, as stoats are attracted by the smell. A stoat will steal the eggs and possibly kill the female when she tries to defend her nest. Stoats will also attack them during the moult when the ducks are dropping their feathers and can't fly.
Janet was instrumental in setting up The Ruahine Whio Protection Trust, which works to protect whio and their habitat in the Ruahine Ranges and raise funds to support the volunteer groups carrying out predator control. The Trust has around 30 volunteers who maintain 2,500 traps. The stoat trapping network also benefits myriad native wildlife in the hills and has brought about an increase in various bird populations as well as facilitating the spread of kiwi further south than previously recorded.
Janet has chaired the Trust since its establishment, and she co-ordinates the volunteers, arranges bait and equipment, organises the re-baiting of traps and raises funds for the project. She praises the commitment of her band of volunteers who put in many hours of work in their spare time to clear and re-bait traps. NZ's backcountry can be challenging terrain and it helps that most of the volunteers are, like Janet, die-hard trampers, with many belonging to the Palmerston North Tramping and Mountaineering Club, so are fit enough to carry a pack while negotiating boulders and rapids, to set and check traps.
"Ideally people should have outdoor experience, though other lighter tasks need to be done," says Janet. "Our volunteers range from a 10-year-old girl who comes along with her mum, to a very fit 80-year-old".
---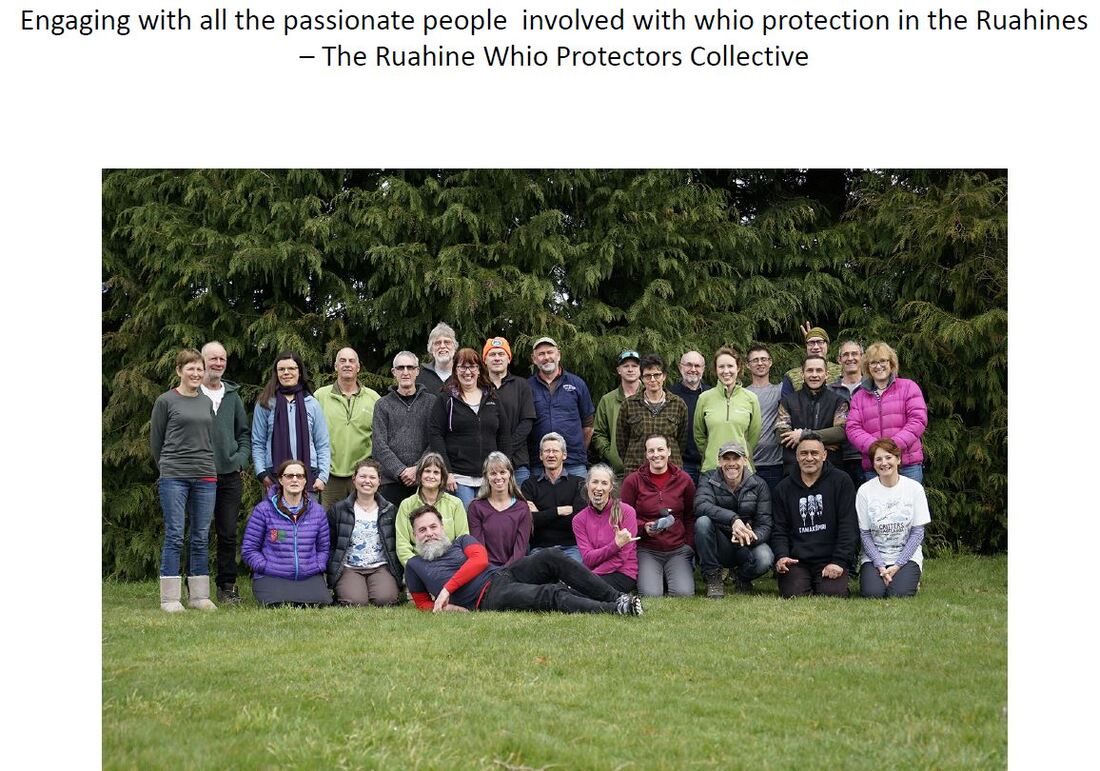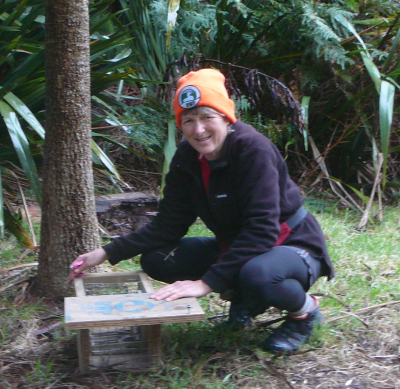 Janet shows how a predator trap works.
---
Janet explains that the Oroua and Pohangina rivers in the Ruahines are home to the southern-most wild populations of whio remaining in the North Island, as well as to kiwi. "So the work to protect these fantastic birds is really important and it's a huge team effort."
Each month Janet collects 180 free eggs from Zeagolds, NZ's largest egg producer, for the Protectors to use as bait. "Carrying the eggs is the worse bit of the job," observes Janet. "They can break, even though we carry them in a special box".
Funding from the Department of Conservation's Community Conservation Fund pays for flying three or four volunteers by helicopter into the northern area of the ranges but that will expire at the end of June 2022. "We've no funding after that and it costs around $4,000 to fly people in. In the south, people can walk in but it's still a 200km round trip just to get to the start of the project, so fundraising efforts, such as us producing a calendar, helps to give the volunteers some petrol money."
The Trust is currently collaborating with Patrick Garvey of Landcare who is running a bait trial using synthetic ferret odour. "We're putting this bait in every second trap, and being able to be involved in breakthrough science is really cool," states Janet.
If effective, this synthetic bait will provide a new tool for invasive species control and assist in meeting the NZ government's ambitious goal of eradicating possums, rats and stoats by 2050.
That goal didn't exist when Janet started her work to bring the whio back from the brink of extinction. "There weren't all the environmental groups there are now and there was little community involvement. Now we have people taking ownership of duck protection and it's been good to have been part of that development."
As well as trampers, Janet has the support of volunteers from throughout the community, including the Manawatu branch of the New Zealand Deerstalkers Association who support the work by volunteering to check traps two months of the year.
The unrelenting dedication of volunteers such as Janet has been rewarded by an increase in Ruahine whio numbers so they are now a population of national significance. It's difficult to be certain of precise numbers of this elusive duck, but Janet says that some years ago she had set a benchmark of 50 pairs by 2020 as a measure of success. She's hopeful that target may have been reached, but stresses the ducks' extreme vulnerability and the ongoing need for protection if their numbers are not going to fall.
"Most people find a time in their life to volunteer and we're always after people who want to help out. Whether it's out in the field rebaiting and emptying traps, or it's from home helping to organise, get in touch and we'll find something for you to do."
Although DOC does a lot of trapping work, community groups carry the load in many parts of New Zealand. The Ruahines are no exception, and if it wasn't for the dedication of volunteers such as Janet, the rare whio - the only bird in the world to whistle rather than quack! - would have become extinct.
If you'd like to help protect the whio or buy the Trust's 2022 calendar, phone Janet Wilson on 027 341 8945 or email ruahinewhioprotectors@gmail.com.